Location
Date
Contact Info
Registration
Team Connect and Home Services Mega-Workshop Event (TCM)
Botanero Restaurant King Farm
800 Pleasant Dr #160
Rockville MD 20850
January 21, 2019
Monday
5:30 PM - 7:00 PM
Stephanie Bonte-Lebair
917-251-7866
RSVP
Get Directions
Send event to a Friend
Add to iCal/Outlook
Team Connect Montgomery Roster
All Around Inspections

Allison James Estates and Homes

Bridge Performance Coaching

Cabi Fashion Stylist

Habitat for Humanity

Legacy Home Services

Leora Hoffman Associates

Mindy Wagner Interior Design

Motivated to Marry

Original Imprints

Realtor RE/MAX Realty Group

Remax Premiere Selections

Savvy Business Network

Team Network Corporation

The Empowered Voice

Verizon Fios

Wardrobe Stylist of McLean
TOTAL TEAM SCORE CARD SCORE: 0 POINTS
ADVERTISING SPECIALTIES
Original Imprints
Michelle Slomnicki
8703 Liberty Lane
Potomac, MD 20854
Phone: 301-806-4566
Email me!
Website:
http://www.originalimprints.com
Member Since October 2017
Send Referral
Print Referral Slip
BUILD A STRONGER BRAND!
Looking for a specific item or just browsing for ideas? Original Imprints is your one-stop shop for promotional products and business gifts. Our extensive range of promo products will ensure you find something to suit your requirements.
With 1000s of selections, Original Imprints offers branded merchandise to fulfill all of your needs.
Put our knowledge about promotional products to work for you. With high quality promotional products, fast delivery times, and prices to fit all budgets, we will provide customized, relevant recommendations for you. Simply take a look around or contact us now and we'll do the shopping for you!
Promotional products are kept for 3 Reasons!
1. Fun 2. Functional 3. Trendy
Mugs, Pens and T-shirts Oh My...
Swag, Events or for Trade Shows you buy?
With 3000 suppliers, what you seek, we supply!
Trendy, Eco-friendly or Tried and True...
Under a dollar or high end...it's all done for you!
---
CABLE / INTERNET & PHONE SVCS
Verizon Fios
Michael Booth
Silver Spring , MD 20906
Phone: 240-380-5415
Email me!
Member Since June 2016
Send Referral
Print Referral Slip

When you want personal one-on-one service from an experienced professional, Team Member Michael Booth is your Verizon Fios Specialist.
Internet
Get incredible speed, up to 940/880Mbps, That's fast enough to download 50 songs (500MB) in less than a second!5 Game, stream, surf and share like never before. And Verizon Fios Internet offers unbelievably fast upload speeds so you can post photos and collaborate online at the speed of fiber optics.
TV
With Fios TV you can choose a Custom TV plan to take control of the types of channels you subscribe to. Want even more? Get hundreds of channels (including many in HD), Multi-Room DVR service and premium channels with a Traditional TV plan. No matter which plan you choose, you can watch movies on your schedule with Fios On Demand — or watch Fios TV on the go with the Fios TV app.6
Home Phone
Fios Digital Voice is fiber-optic home phone for your high-powered life. Stay in touch with kids, the baby sitter, roommates — even international relatives — all with HD-like sound quality. Because Fios Digital Voice provides 99.9% network reliability, your landline will be ready to go when your mobile phone isn't. Quick check-ins to long catch-ups, everything's amazing on the 100% fiber-optic network.
---
CHARITY DONATIONS (CLOTHING/GOODS)
Habitat for Humanity
Alena Biagas
1029 East Gude Driv
Rockville, MD 20850
Phone: 240-535-6356
Email me!
Website:
http://habitatmm.org/restore-donation-center
Member Since August 2018
Send Referral
Print Referral Slip
Habitat for Humanity ReStore® is a nonprofit retail outlet specializing in the resale of quality new and gently used furniture, antiques, appliances and building supplies.
By taking in household goods and furniture donations, ReStore diverts tons of reusable materials from our local landfills. ReStore acts as a discount home improvement center as all items are sold to the public at deep discounts and all proceeds are used to fund the building of affordable housing in Montgomery and Prince George's Counties.
To shop with a purpose and support a good cause come visit our nonprofit retail outlet in Rockville and Silver Spring today!
Call to scheduling a pick-up: 301-926-4104
Schedule a pick-up online for your furniture donation and household goods today!
---
CLOTHING (Women's Fashion)
Cabi Fashion Stylist
Thelma Monk
7341 Cliff Pine Dr
Gaithersburg, MD 20879
Phone: 301-602-5510
Email me!
Member Since December 2018
Send Referral
Print Referral Slip
Experience
For years, I have enjoyed being a fashion stylist. My credentials include a Bachelor of Science Degree in Clothing and Related Arts. I hold a Ph.D. in Education from Virginia Tech. However, I have never been far away from the field of fashion. In addition to being in a stylist for Cabi, I am also a private shopper.
Expertise And Services Provided
My expertise is styling women from many walks of life and women who are committed to their weight goals. My services include establishing a transitional wardrobe. I help women to know what styles compliment their body types and what fabrics to choose as they transition from current weight to their ideal weight.
Why I Love What I Do
I love being a fashion stylist, for it is my calling. It is my joy to empower women to know what transitional styles, basic wardrobe items, fabrics, and accessories are best for them. My mission is to help women get clear on their wardrobe goals and to believe they can look absolutely stunning during their journey. I enjoy helping my clients make a stunning impression every single time.
---
CLOTHING (Women's Fashion)
Wardrobe Stylist of McLean
Robin Finnell
5924 Woodley Road
McLean, VA 22101
Phone: 703-623-3391
Email me!
Website:
https://tinyurl.com/yceavjk9
Member Since August 2018
Send Referral
Print Referral Slip
Robin helps senior female executives, professionals, socialites, and philanthropists refine their style and showcase their personal brand by creating and coordinating their wardrobes. "My love of fashion and beauty began with my mother selling Avon and playing with all the samples. All made up, my natural inclination was to move on to fashion and I fell in love!" Although this was her first glimpse of who she would become, "my passion exploded when I had the opportunity to dress less fortunate women transitioning to self-sufficiency, through some of my volunteer work. I realized that a simple outfit can transform a women's confidence in seconds. Voila, my passion and my profession came together, and I became a professional wardrobe stylist and am as enthusiastic today working with my clients as I was over 20 years ago, when I started."
Fashion means many things to many people. Robin makes it all about YOU. She helps you with what you like, reflecting who you want to be and the image you want to project, for any given situation. When you have a professional to work with, there is more time for you to devote to pursuing your passions.
Robin's goal is to always make it easy for us to be at our best. The right cut, color and fit can propel any woman to feel like she is walking down the runway of her life. She wants her clients to be able to walk into their closet and walk out confident they are wearing clothing that fits properly, reflects their personal style, looks fabulous and is perfect for their day ahead!
To best benefit her clients, Robin has chosen to work with Worth New York and W by Worth because of the quality of their clothing, their timeless classic looks as well as on trend styles, luxurious fabrics, and how they are not on the rack of every department store. Their designers travel the globe to purchase the finest fabrics and stay on top of trends so their clients always look like their most confident selves. She feels her clients deserve that!
---
COACH (Business/Executive)
Bridge Performance Coaching
Sonja Der
Gaithersburg, MD 20878
Phone: 301-661-2283
Email me!
Website:
http://www.bridgeperformancecoaching.net
Member Since March 2018
Send Referral
Print Referral Slip
Sonja Der, principal and head coach at Bridge Performance Coaching has over 20 years of leadership and coaching experience in various capacities paired with sharp intuition.
Bridge Performance Coaching meets you where you are and empowers you to overcome the obstacles, (hence the Bridge,) to cross over the challenges to reach your performance goals. Client sessions are initially spent getting to know you for the purpose of establishing your personal leadership style, discussing aspirations and goals, and charting your future course towards achieving your highest performance expectations. Challenges are identified through personal reflection, strength assessments and purposeful coaching applications. Realistic, achievable - yet stretching - goals are set and an accountability plan is offered.
MISSION STATEMENT: "To coach entrepreneurs and leaders to reach their full performance potential without compromising their integrity."
I am an entrepreneur with an extensive leadership and coaching background. I first discovered my coaching gifts as I was regularly receiving requests from personal and work associates to "pick my brain." A close friend eventually asked me to meet with her husband to help him flush out the overwhelming schedule he was wrestling with. This request turned into a coaching relationship per his request. This man was my pastor, whom I had immense respect for. My pastor then began referring my coaching services to others. This first coaching relationship was born in 2007. For the first time in my career, I found my sweet spot by combining my dual passions for coaching and empowering other leaders.
Bridge Performance Coaching was officially originated in 2015. Since then I have worked with both corporate and non-profit individuals and teams.
What Are My Qualifications?
I bring 23 years of varied leadership and ministry experience paired with keen intuition, polished communication skills, negotiation & mediation experience, problem-solving savvy, and HR management to the table.
Specific degrees and certifications include:
Bachelor of Arts in Speech-Language Pathology & Audiology (Indiana University of PA/1989)

Masters of Science in Speech-Language Pathology (University of Maryland/1991

Certified Conditioning Specialist/ Small Business Owner (National Sports Performance Association/2000)

Leadership Coaching Certification (Ministry Insights/2016)

Leading From Your Strengths Assessment Certification (Ministry Insights/2016)

HR Essentials Training (SHRM/2017)
Leadership Positions include:
Director of Speech-Language Pathology Services (Manor Care/1994)

Director of Operations for Neurological Rehabilitation Unit (Medbridge/1995)

Leadership Council (Seneca Creek Community Church/2003)

Director of Small Groups (Seneca Creek Community Church/2005)

Director of LEAP (Home School Co-op/2007)

Leadership Coaching (Varied/2007)

Volunteer Coordinator (Home School Theater Program/2010)

Director of Small Groups (Seneca Creek Community Church/2014)

Small Business Launch (December, 2015)
---
COACH (Professional/Life/Relationships)
Motivated to Marry
Amy Schoen
Rockville, MD 20852
Phone: 240-498-7803
Email me!
Website:
http://www.motivatedtomarry.com
Member Since March 2018
Send Referral
Print Referral Slip
Do you wonder if you will ever meet someone to marry and have a family?
Do you find that you easily meet people for dating, but you do have difficulty finding the right person who wants what you do out of life?
Do you find yourself staying in exclusive relationships way too long that don't lead to marriage?
Coach Amy works with marriage-minded individuals who are ready to take charge of their dating efforts and learn a system of how to meet people who share their values so they can meet the right one and have the family life they desire.
Amy's story is one of perseverance. She was divorced in her mid thirties, remarried at 42, and she struggled with infertility until giving birth to her son at the age of 48 after exploring all her options to bring a child into her family.
Amy is gifted in clarifying her clients' critical relationship values and what is truly important in their life so that they can fully connect with their true love partner whether they are single or already coupled.
Coach Amy can help you:
Increase the opportunity for a love connection with the "right one" based upon shared key relationship values to find lasting true love.
Create a targeted, effective dating plan so you can finally find your true love and live life doing what you truly love.
Become more self assured so you feel attractive to others.
Save precious time by learning how to evaluate a potential partner quickly and accurately so you don't spend time in a relationship going nowhere or eliminate an appropriate mate.
Provide a way for you to remind yourself of all the wonderful attributes you have to offer to a loving relationship so you won't lose hope while you are looking for that special person.
The clients that benefit most from working with Coach Amy are:
People who have made finding a serious committed relationship a priority in their life and are willing to put their energies and resources to achieving this goal.
Actively seeking accountability and support for their actions to create opportunities for meeting that special person.
Dedicated to learning a new approach to dating and relationships to fully realize their dream of having a life partner, marriage and the family they desire.
---
COACH (Professional/Life/Relationships)
The Empowered Voice
Stephanie Bonte-Lebair
2 Michele Ct.
Gaithersburg, MD 20878
Phone: 917-251-7866
Email me!
Website:
http://www.empoweryourvoice.com
Member Since August 2017
Send Referral
Print Referral Slip
My Tag Team: Kay Loughrey,Abraham Ajenifuja
With over 20 years experience, Stephanie Bonte-Lebair provides Voice, Presentation, Sales & Communication Training for Business Owners, Executives, Sales Professionals, and Entrepreneurs.
Stephanie is a lifelong performer and lover of all things on the stage! She has been coaching singers, actors and speakers for the last 15 years to improve their voices and connect with their audiences. She holds a Masters in Vocal Performance, a Minor in Speech Pathology and has performed in operas, musicals, cabaret shows, amusement park shows and dinner theater (see Performance Credits). Originally from the Midwest, she has studied and performed in places such as Italy, New York City, the D.C. region and beyond.
Stephanie is a talented coach, director, and inspirational speaker. She loves to speak to groups of all sizes about how they can leverage their voice to build their business and fulfill their dreams. Her mission is to help others stand in their power and be the voice of their passions!
Interests
Singing, Musicals, Opera, A Cappella, Theater
---
HOME IMPROVEMENT & REPAIRS
Legacy Home Services
Vern Krieger
Silver Spring,, MD 20905
Phone: 301-509-1400
Email me!
Member Since 03-15-16
Send Referral
Print Referral Slip
- Handyman services
- Electrical repairs and installation services.
- Doors, windows and locks.
- Security and alarms.
- Emergency lock service.
- Cabinets & Kitchen counter-tops.
- Full range of home remodeling: Kitchens, bedrooms, garage, sun-rooms, bathrooms.
- Many Others
---
HOME INSPECTIONS
All Around Inspections
Jim Johnson
1707 Crawford Dr
Rockville, MD 20850
Phone: 240-626-6426
Email me!
Website:
http://www.all-around-inspections.com
Member Since April 2018
Send Referral
Print Referral Slip
My Tag Team: Beth Pulsifer
When you are considering purchasing a home All Around Inspections provides peace-of-mind by ensuing this important decision is right for you and your family. We work diligently during and after the inspection to furnish you with a clear assessment so you have the confidence to make the best decision possible.
Our comprehensive electronic reports show you exactly how your home measures up, and we also include suggestions on how to improve energy efficiency and the overall comfort the home.
When you trust All Around Inspections to evaluate your home or potential home, you're hiring a professional, Jim Johnston, with an extensive background in home construction and remodeling. All Around Inspections brings the eye and voice of experience, taking the home's age and condition into consideration to provide a complete picture of the property. All Around Inspections is certified, licensed, insured, and thorough, and your best choice for a comprehensive home inspection or energy audit. Jim's current credentials include:
* Maryland State Home Inspectors License
* Certified BPI (Building Performance Institute) Envelope Specialist
* Certified BPI (Building Performance Institute) Energy Auditor
* Member of Intermachi-International Certified Home Inspectors
* Member of Maryland Association of Home Inspectors (MAHI)
Along with his impressive credentialing, Jim makes sure to perform a thorough inspection so you know what to expect when you purchase your new home. The main area of inspection are:
* Foundation for cracks/settlement issues
* Roof damage (shingles or metal roof)
* Framing
* Electrical systems
* Window/door operations
* Plumbing
* Siding
* Insulation and ventilation
* Interior structure
* Ceiling and wall cracks
* Heating and cooling systems
All Around Inspections' objective is to ensure that your home is fit for you and your family. Remember, we're on your side. We want you to have a clear, honest assessment of the property that you're considering including suggestions on how to improve energy efficiency and the overall comfort the home.
---
INTERIOR DESIGN
Mindy Wagner Interior Design
Mindy Wagner
18430 New Hampshire Ave
Ashton, MD 20861
Phone: 240-620-2301
Email me!
Website:
http://www.mindywagner.com
Member Since July 2018
Send Referral
Print Referral Slip
Interior Design-Commercial and Residential
Senior Living and Residential Luxury Interiors
Drapery Design
Custom Furniture
Feng Shui Consultant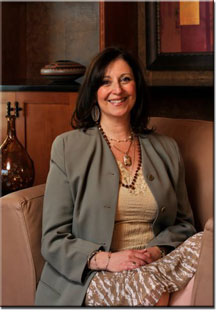 Mindy Wagner, Principal/Designer for Mindy Wagner Interior Design, LLC in Ashton, Maryland is both a residential and commercial Interior Designer. She is also an experienced Remodeler, and Renovator, as well as a Feng-Shui Consultant, and Home Stager for Real Estate.
With clients ranging from Law Firms, and International Corporations, Medical Offices, Nursing Homes, and Real Estate Agents, to Homeowners throughout the greater Washington, DC area, as well as New York City, Boston, Chicago, and South Florida, Mindy has one goal in mind: To Bring Out the Best In You with Beauty and Healing Environments. As she says, "We go from Swanky to Sacred!"
Mindy Wagner Interior Design, LLC Integrates Beauty and Functionality
Mindy WagnerOur company has one goal in mind to bring out the best in our clients, whether it is showcasing one important room, or developing a master plan for a large project, residential or commercial. We visualize the whole project and organize the detailed steps along the way. No matter what your preferred style, Mindy Wagner Interior Design, LLC integrates beauty and functionality, and gets the job done.
Elegant, Inspired Interior Design and Remodeling Services
Mindy Wagner Interior Design, LLC offers you a custom interior design service, including:
* Consultation in your home or our studio
* Feng Shui and Staging
* Drapery design, blinds and shades, custom made drapes, sheers, bedspreads, pillows
* Reupholstery and Fabric Studio
* Wallpapers and installation
* Furniture: providers for national brands as well as unique custom furniture
* Color palettes with paint, wall coverings, fabric, furniture finishes, and floor coverings
* Framed art, prints, and originals
* Custom area rugs
* Remodeling Consultation
---
MATCHMAKING SERVICES
Leora Hoffman Associates
Leora Hoffman
PO Box 72
Garrett Park, MD 20896
Phone: 301-537-5266
Email me!
Website:
http://www.leorahoffman.com
Member Since October 2014
Send Referral
Print Referral Slip
With 30 years experience practicing law, Leora Hoffman founded Leora Hoffman Associates, an exclusive and extraordinarily personalized matchmaking service.


Why We're Successful
Hundreds of Happy Couples
Leora is different from other matchmakers.
Your personal quest for a partner becomes her quest. You have an on-going relationship with Leora herself. No computer-generated forms, no assistants, no chance selections from online dating services.
Leora's expertise has resulted in her firm's ability to build a unique pool of quality singles. You can benefit from her many years of experience matching compatible people.
Leora personally vets all applicants which offers safety for those who hire her. She also provides unique feedback, advice, and more!
Become A Member
Find Your True Love
For 12 months you select over a two year period, you will be matched with potentially compatible partners – in a safe, comfortable, confidential manner. Your relationship with Leora begins with a personal interview – discussing who you are and what you want and need in a mate. Leora facilitates meetings between you and people she selects for you – people who share similar interests, beliefs and goals.
Leora offers different levels of membership, which reflect the amount of time Leora invests in each client. Her referrals are not based on a quota, but rather on her philosophy of "quality over quantity.


It's All About Chemistry
Leora Has Devised A Unique Method To Match Members
Chemistry is something that can only be assessed face-to-face, rather than through photos, video, or e-mail. Leora has proven time and time again that a trusting, ongoing relationship with a knowledgeable advisor is by far the most effective way to find a compatible mate. There is simply no substitute for the personal touch... Call today for a confidential consultation: 301-537-5266.
---
NETWORKING (Events & Sponsorships)
Savvy Business Network
Meryl Greenhill
Leesburg, VA 20176
Phone: 949-243-5452
Email me!
Website:
http://savvybusinessnetwork.com
Member Since January 2018
Send Referral
Print Referral Slip
The Savvy Business Network was founded by Meryl Greenhill, who noticed when she moved around the globe that there were several networking groups, but none that quite fit the sophisticated "savvy" audience.
The Savvy Business Network offers free advertising to vendors who sign up for vendor tables. The events are free for attendees to network and enjoy.
Events feature fashion shows, speakers, dozens of vendors, food, drink and fun. The Savvy Business Network helps vendors grow their businesses throughout the year. Join the Savvy Family!
---
NETWORKING TEAM MANAGEMENT
Team Network Corporation
Curt Kowalski
1 Research Ct #450
Rockville, MD 20850
Phone: 301-260-0060
Mobile: 301-370-5351
Email me!
Website:
http://www.teamnetwork.com
Member Since 1992
Send Referral
Print Referral Slip
My Tag Team: Curt Kowalski,Charley Yancey,Carol Adgerson

Networking Business... with Pleasure!
Before there was any such thing as formal business networking clubs, Curt Kowalski founded the Team Network Corporation. He has been organizing and managing small business networking groups in Maryland, Virginia, and the Washington, D.C. Metro Area for 24 years.


Curt's knowledge and hands-on experience place him with the leading experts and authorities nationwide on the social dynamics of small business networking.


Curt currently help manage 19 Team Networks in Maryland, Virginia and Washington, DC, and now Las Vegas Nevada with over 250 Team Network Members.
---
REAL ESTATE
Allison James Estates and Homes
Heather Sylvester
Rockville, MD 20850
Phone: 301-518-9797
Email me!
Member Since February 2017
Send Referral
Print Referral Slip
Your Local Real Estate Connection
Get a positive, helpful partner for buying or selling a home:
Trusted resource for answers about the process

Innovative marketing strategies

Expertise about neighborhood features

Ability to target home searches

Strong negotiation skills

Support through the closing and beyond
As an agent who's an expert in this local area, I bring a wealth of knowledge and expertise about buying and selling real estate here. It's not the same everywhere, so you need someone you can trust for up-to-date information. I am eager to serve you. Here are some of the things I can do for you:
Find Your Next Home
You need someone who knows this area inside and out! I can work with you to find the right home at the right price for you, including all the neighborhood amenities that matter - not to mention the essential criteria you have for your ideal home
Sell a Home
When it's time to move, you need someone who will advertise your home, show to prospective buyers, negotiate the purchase contract, arrange financing, oversee the inspections, handle all necessary paperwork and supervise the closing. I can take care of everything you need, from start to close.
Consult on Home Selling Tactics
Oftentimes buyers don't visualize living in your home the way you do. I can make your home attractive to its ideal audience - which can help you get top dollar. Things like staging the home, making repairs or minor improvements, or even simply painting the walls can be the difference between a home resting on the market and one that's sold fast.
---
REAL ESTATE
Realtor RE/MAX Realty Group
Ann Marie Clements
9711 Washingtonian Blvd.
North Potomac, MD 20878
Phone: 301-921-2657
Mobile: 240-997-8654
Email me!
Member Since July 2015
Send Referral
Print Referral Slip

Whether you're relocating or Maryland is already your home, you need an agent who knows the diverse neighborhoods of Montgomery County.
My name is Ann Marie Clements, and I am a full time professional working to make your real estate experience exciting, enjoyable, and as hassle-free as possible! I work hard to earn your business. I offer prompt and personal service, devotion to your best interests, and years of Real Estate experience and I will smooth the road for you.
If you're relocating, my relocation package and personal attention will help you feel at home in no time! If you're buying, I will help you find the perfect home by communicating with you and keeping close tabs on this strong market. If you're selling, I provide an aggressive marketing strategy to move your property quickly.
---
REAL ESTATE
Remax Premiere Selections
Samar Caverly
600 S. Frederick Rd. #402
Gaithersburg, MD 20877
Phone: 301-801-4988
Email me!
Website:
http://www.samarhomes.com
Member Since April 2013
Send Referral
Print Referral Slip


Why use Samar Caverly of RE/MAX?
When you choose RE/MAX Sales Associate Samar Caverly to sell your home or help you in the home buying process, you'll experience an exemplary level of service.


RE/MAX Associates are The Hometown Experts With a World of Experience®.
Remax agents are the most knowledgeable agents who have the experience and community connections to assist you in the home buying process. Across the globe, they make their living in the same communities in which they live. They're the people next door, or just down the block.
Customer Satisfaction
The proof of quality service is in repeat customers and in customers who refer RE/MAX Associates to friends who are embarking on the home buying process. RE/MAX Sales Associates average 70 percent of their business from repeats and referrals, while other agents average about 30 percent from those sources. Howard Tate's averages are even higher at 85% referral and repeat business.
Team Member Samar Caverly is that kind of Realtor, working with other seasoned agents selling/buying houses for deserving homeowners! She is knowledgeable, dedicated, professional Realtor who can assist you in selling or buying a home of your choice using her superior negotiations skills, and out of the box thinking combining 17 years of Management Consulting experience at Booz, Allen into a successful Real Estate career. She enjoys working with people, getting them a great home, and negotiating the best deal for them.
Samar specializes in Montgomery and PG Counties, works with investors, new home owners, move up/down buyers and resale homes.
Samar is a networker and a leader, currently a member of Certified Residential Specialists, Womens Council of Realtors, A MAR Leadership Academy graduate, CDPE certified for short sales. She teaches first time home buying seminars for HCI Housing Commission Initiatives.
---