03/07/19 05:30 PM
Category: Can you help?
Posted by:
Catherine Nazarene of Little Sparkie Electric
Hello Team Network Family,
My name is Catherine Nazarene, but most people know me as "Little Sparkie."
I have been a member of Team Network for many years and am currently a member of the Four County Connection Team the meets in Mt Airy.
I AM LOOKING FOR A PART-TIME HELPER
What I am looking for preferably is a mature person in good shape who can work as an electrician's helper.
They would be expected to work somewhere around 20 hours a week, and seasonally 2 days a week (April and October) doing basic maintenance on smaller generators.
I will train the right person, but obviously work ethic is a must, along with the ability to relate to customers.
The wages I pay are competitive - I'll ask for a salary history so I have some idea of what an applicant is expecting.
Do you know anyone who might fit the bill and who might be interested? If so, please contact me.
THANK YOU!!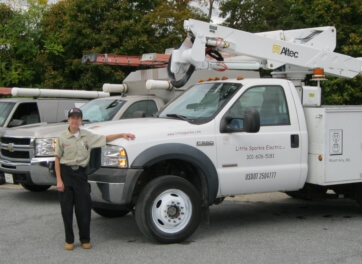 Little Sparkie Electric
Catherine Nazarene
Mount Airy, MD 21771
Phone: 301-606-5181
catherine@littlesparkie.com
http://www.littlesparkie.com