Frederick Area Network Roster
ACCOUNTANT / CPA / ESTATE PLANNING
45 DAY TRIAL MEMBER
McLean, Koehler, Sparks & Hammond
Tom Condrasky
70 Thomas Johnson Drive; Suite 100
Frederick, MD 21702
Phone: 301-662-2400
Email me!
Website:
http://www.mksh.com
Member Since 2012
Print Referral Slip
Forward profile to a Friend
---
AUTO REPAIR
Superior Auto Service Center
Dave Taggart
4624 Wedgewood Blvd
Frederick, MD 21703
Phone: 301-682-3533
Email me!
Website:
http://www.superiorautoservices.com
Member Since 2007
Print Referral Slip
Forward profile to a Friend
Committed to Integrity, Reliability, and Superior Customer Care
Superior Auto Service Center is Frederick County's Premier automotive service, maintenance, and repair facility. Our customers enjoy the peace of mind knowing their car is maintained by expert ASE Certified, Factory Trained Technicians and all of our work is backed by a 12 month/12,000 mile Warranty.
We pride ourselves in building relationships based on trust and reliability. When you bring your vehicle to Superior, you know that you're getting maintenance of the highest quality, yet the pricing and personal care you can expect from a friend. Call for a free estimate or visit one of our convenient locations today and see how we can make taking care of your car easier for you!
---
CHARITY DONATIONS (CLOTHING/GOODS)
Goodwill Industries Monocacy Valley
Amy Castle-Rogers
400 East Church Street
Frederick, MD 21701
Phone: 301-662-0622 (Ext.207)
Mobile: 240-215-5801
Email me!
Website:
http://www.gimv.org/commercial
Member Since 02/01/13
Print Referral Slip
Forward profile to a Friend
Donate your surplus merchandise, excess inventory, customer returns to Goodwill!
Donate in-kind items such as clothing, domestics, furnishings, home décor, books, toys, games, shoes, kitchen accessories, automobiles, boats, and property. Goodwill also accepts gently-used items such as tables, chairs, lobby furniture, and surplus office supplies. We also accept computer and computer-related components for recycling.
Benefits To You:
It is easy, Goodwill manages the process for you

Save money, time and increases valuable warehouse/storage space

Dispose of unwanted items

Receive a charitable write-off with convenient donations locations

Reduce trash/compactor costs and helps preserve the environment

Partner with a trusted community-based organization and promote positive public relations through increased community involvement
Allow Goodwill to place a donation bin on your commercial property.
Donation bins are a clean, economical method of collecting donations throughout our community
Each bin is regularly serviced every two to five days, this includes emptying and cleaning the bin, picking up any items around the bin and ensuring that the image of the bin is appropriate
When you agree to have a bin placed on your commercial property, you will receive a special telephone number in the event that the bin needs service between normally-scheduled pick-ups and Goodwill will guarantee someone will be dispatched to the bin location the same day.
Take comfort in knowing that your customers will know your business supports the community
Your Donation Helps Goodwill create hope, jobs and futures!
Revenue from the sale of your donations helps support Goodwill's mission to create hope, jobs and future in our community. Goodwill serves persons with disabilities or disadvantaging conditions and local businesses seeking qualified employees by providing education, skills training, work experience and job placement services.
For Commercial Donations,
Bin Placement and Donation Drives,
Contact Team Network Member Amy Castle-Rogers.
---
ELECTRICIAN
Little Sparkie Electric
Catherine Nazarene
P. O. Box 329
Mount Airy, MD 21771
Phone: 301-606-5181
Fax: 301-829-9983
Email me!
Website:
http://www.littlesparkie.com
Member Since 2007
Print Referral Slip
Forward profile to a Friend
COMMERCIAL AND INDUSTRIAL
Tenant build-outs

Remodeling and additions

New building construction

Motor controls

Troubleshooting, service and repair

Emergency service
Remodeling and additions: basement finishing, bathrooms, kitchens, you name it!

New home construction

Troubleshooting, service and repair

Emergency service
Remember, no job is too small...we are always happy to answer questions and take care of your needs. Call or e-mail us anytime. We look forward to serving you!
---
GREETING CARD SERVICES (Personal/Business)
Send Out Cards - Ind. Rep.
Colleen Strube
6405 Mill Run Ct
Phone: 301-748-8841
Email me!
Website:
http://www.colleenstrube.com
Member Since 01/01/13
Print Referral Slip
Forward profile to a Friend
• What We Do •

A concept and service that is changing people's lives.

You can send a printed greeting card with your personalized message in Less than 60 Seconds.

• Choose your card
• Write your message
• Click send

SendOutCards prints it, stuffs it and mails it, all for less than a greeting card at the store.

• Why We Do It •

Hi. I am Colleen Strube and let me ask you a question. When was the last time you sent an unexpected card at an unexpected time to someone you care about?
Do you think it would make a difference?
Do you remember people's birthdays and other special occasions? Do you think that matters to them?
How about a simple thank you or expression of appreciation. Do you think that would make a difference?
With this incredible tool, not only can you remember people and share appreciation, you can motivate, uplift, encourage and truly make a difference. Here is the interesting thing, the more you do this, the more you realize that you, the sender of these cards, benefit the most.
We are changing people's lives for good one simple card at a time.
---
INSURANCE (Medicare Supplement)
45 DAY TRIAL MEMBER
ARM
Keri Benton
5216 Charmans Court # 101
Frederick, MD 21703
Phone: 301-418-6630
Mobile: 301-580-0090
Fax: 301-418-6635
Email me!
Website:
http://www.choosearm.com
Member Since 2012
Print Referral Slip
Forward profile to a Friend
About Us



Allied Resource Management (ARM) began as an insurance brokerage and human resources outsourcing firm, founded in 2005 with the following objective: To consistently provide superlative customer service to our clients by adhering to three core value propositions:
DYNAMIC: To proactively research and identify ways in which to improve our customer's current programs.

LOYAL: We will always place our customer's interest ahead of our own

RESPONSIVE: Our team will always be available and ready whenever our customers need us.
We currently serve over 350 small to mid-size companies throughout the mid-atlantic region.
What We Do

ARM proudly provides for the following services and resources:
Group insurance benefits including but not limited to health, life, disability, and dental

Medical savings accounts such as HSA, HRA, FSA, etc.

Human Resources support (Payroll, 401K, HR specialists)

Property and Casualty insurance

Business Insurance

Wellness

Long term care planning

Sales and marketing consulting

COBRA administration

Benefit Consulting/Account Management

Retirement Plans and Wealth Management

Legal Counsel

Graphic Design

Information technology and web development
Call us today and put our 30+ years of combined experience in the market to work for you!
---
INSURANCE - PERSONAL
45 DAY TRIAL MEMBER
Allied Resource Management
Tara Pellet
5216 Chairmans Court Suite 101
Frederick, MD 21703
Phone: 301.418.6630
Fax: 301.418.6635
Email me!
Website:
http://www.choosearm.com
Member Since 2012
Print Referral Slip
Forward profile to a Friend
---
NETWORKING TEAM MANAGEMENT
Team Network Corporation
Curt Kowalski
3012 Paladin Terrace
Olney, MD 20832
Phone: 301-260-0060
Fax: 301-570-3301
Email me!
Website:
http://www.teamnetwork.com
Member Since 1988
Print Referral Slip
Forward profile to a Friend
Networking Business... with Pleasure!
Before there was any such thing as formal business networking clubs, Curt Kowalski founded the Team Network Corporation. He has been organizing and managing small business networking groups in Maryland, Virginia, and the Washington, D.C. Metro Area for 20 years.

Curt's knowledge and hands on experience places him with the leading experts and authorities nationwide on the social dynamics of any small business networking.

Curt currently manages nine Team Networks in Maryland, Virginia and Washington DC which includes nearly two hundred Team Network Members.

Curt is well known in the industry for his motivational skills, enthusiastic attitude and ability to make things happen. He is the "go to guy" for anyone looking for help, advice or a referral of a quality local business in the Washing Metro Area. He has also been praised by local chambers and other groups for his always interesting, informative, practical, and immediately useful business networking seminars and workshops.

But what Curt is best known for, is his highly successful networking groups Now, once again, he leads the way launching the newest version of the Team Network website. This new website alone, with all its features, including the cutting edge idea of integrating social media sites such as LinkedIn, Facebook, and Twitter is putting the Team Network in a class all by itself.

Interested in learning if becoming a member of Team Network would be a smart investment for you and your business? Call Team Network at 301-260-0060 or click here to submit your company contact information online. You will be contacted soon and we can start to get to know each other.
Interests
Live Music, Most sports including playing baseball, tennis, golf and others. Love nature and the great outdoors and have a particular interest in bird-watching.
---
NETWORKING TEAM MARTY MANAGER
Team Network Corporation
Julie Lichtman
Frederick, MD 21702
Phone: 240-367-5157
Mobile: 240-367-5157
Email me!
Website:
http://www.freedomprofessionalservices.com
Member Since 2011
Print Referral Slip
Forward profile to a Friend
Julie Lichtman is your Team Network "Marty Manager" and is at your service to help make your membership with Team Network an enjoyable and valuable experience.
Julie is here to help you plan your next Marty, help you post a classified ad or a calendar event, get the most from the TN website, and answer any questions or concerns that you might have about your TN membership.
For information about Julie's Virtual Assistant business: Freedom Professional Services click here.
---
OFFICE & SUPPORT SERVICES
Regus
Julie Bain
5100 Buckeystown Pike #250
Frederick, MD 21703
Phone: 202-390-4906
Fax: 240-215-6511
Email me!
Website:
http://www.regus.com
Member Since 2013
Print Referral Slip
Forward profile to a Friend
The Westview Village business lounge in Frederick occupies a prominent location that's highly visible from nearby MD Route 85 (Buckeystown Pike).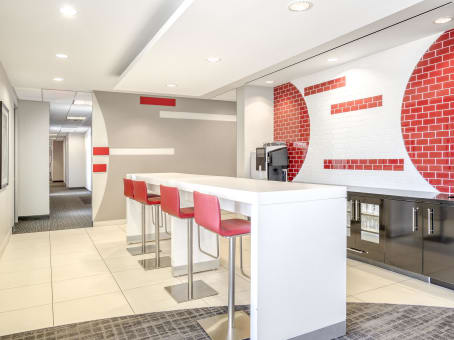 Set in a vibrant business community not far from I-270, the business lounge (pictured at right) is located on the second floor above street-level retail and looks out over an attractive landscaped area and plenty of parking. The two-story building is brick-clad and includes some corner offices that allow natural light to flood in.
Frederick is a hub for advanced technology companies and home to global corporations specializing in engineering, biosciences, life sciences, IT and pharmaceuticals. The county offers ready access to major shipping routes and airports, and highways to markets in New York, Philadelphia and Washington DC.
How We Can Help
Your Business Address; Virtual Offices; Business Address; International Presence; Mobile Working; Day Offices; Business Lounges; Meeting Facilities; Meeting Rooms; Board Rooms; Video Communications; Book Online; Business Services; Telephone Answering; Mail Handling
---
RECREATIONAL VEHICLES & CAMPING CENTER
45 DAY TRIAL MEMBER
Beckley's Camping Center
Tim Hampton
11109 Angleberger Rd
Thurmont, MD 21788
Phone: 301-898-3300
Fax: 301-898-3600
Email me!
Website:
http://www.beckleysrvs.com
Member Since 2013
Print Referral Slip
Forward profile to a Friend
Beckley's RVs is a Maryland RV Dealer who offers Maryland RV Sales of new Motorhomes, Fifth Wheels, Travel Trailers, Toy Haulers, Expandables, Folding Campers and more. We carry new RV brands that have longevity in the industry - Winnebago,Keystone, KZ, Newmar, Fleetwood and Coleman Folding Campers. Please feel free to view our great selection of Used RVs For Sale and our RV specials.
Beckley's RVs separates our self from the rest of the RV industry because of our dedication to customer satisfaction. We are so dedicated to this goal that we have hired an outside company to generate monthly CSI reports that track how our sales team and service department are performing as related to customer satisfaction. CSI stands for Customer Satisfaction Index. Our RV salesmen are graded on this report and strive to make every customers visit a positive one.
Team Network Member Tim Hampton consistantly is rated above 95% in our Customer Satisfaction Index. Ask for Tim when you come by.
---